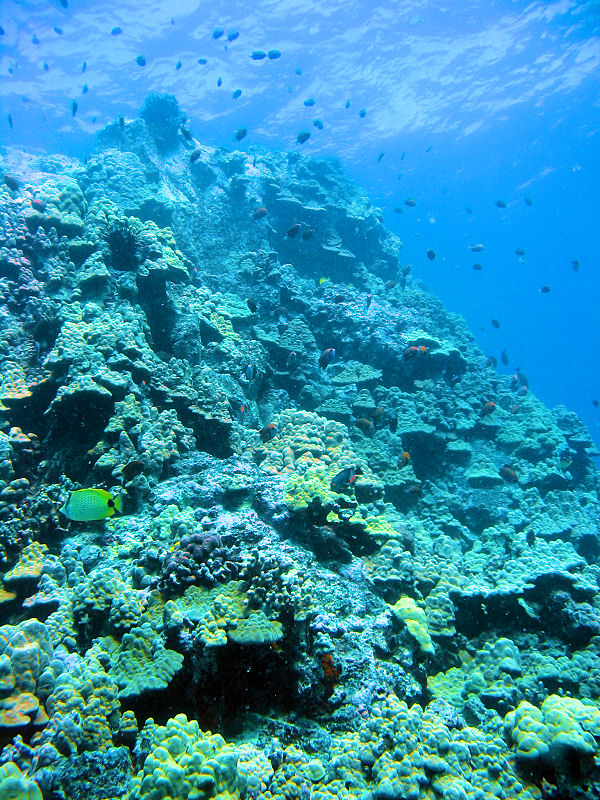 I had heard about Pawai Bay while searching the internet for snorkeling locations in Kona. I have snorkeled most of the Big Island and am constantly searching for new places to snorkel and SCUBA dive. I read that charter boats take snorkelers to Pawai Bay and decided I wanted to go and check it out. I found out that although this bay is somewhat secluded you can access it by a trail leading from the north end of the Old Kona Airport Beach Park. Apparently, Pawai Bay is located about two coves to the north of the Old Kona Airport. However, I wanted to SCUBA dive at Pawai - so hiking the trail with all my gear was out of the question.
So I came up with the idea of Kayaking to Pawai Bay from Kailua Bay. At first I thought that this might be overly ambitous, but after looking at my GPS and a few maps, I saw that it would be about a 1.5 mile kayak trip (each way). By taking a kayak, we could stow all of our dive gear on board and also enjoy the journey.
So a couple of friends and I started the trip - we paddled right off of the beach at the King Kamehameha Hotel in Kailua-Kona. Although, there were moderate swells in the ocean, it took us less than one hour to get beyond the Old Airport Beach Park. Then we realized that the waves were crashing on the lava rocks at the shore and we would need to be very careful as we neared shore. Our original plan was to anchor the boat - dropping anchor onto the sandy bottom (and avoid damaging any corals). We brought our anchor with us and as I swam in the water searching for a good place to anchor, I spotted the buoy that the tour boats use to moor and we tied up the this buoy. It was a great find - we were only about 25 yards from shore and right over the reef that we could see through the clear waters below. As we prepared to enter the water, we saw a lone snorkeler pass by our kayaks - she must have come from shore where you can enter the water at the small sandy beach at the edge of the cove.
We dropped in and two of us SCUBA dived as the third person snorkeled. The reef here was expansive, vibrantly alive, and consumed by colorful corals. As I descended on my dive, I could see many large schools of fish in and around us and the reef. There were large schools of curious Goat Fish meandering near us and pockets of Squirrel Fish bobbing with their large eyes protruding. The top of the reef was in about 20-25 feet of water and it descended to beyond 65 feet deep. The water was a warm 78 degrees and about 70 feet of visibility - all in all excellent conditions! This coral reef really reminded me of the dense reef at Captain Cook, one of my favorites on the Island. As we got back in the kayaks and secured our gear, one of my buddies got sea sick because the swells had increased and the chop was getting rough. So we decided to paddle back to Kailua Bay. We only dived one small portion of the reef here at Pawai Bay - and I look forward to coming back to take a look at the rest of it.
Check out our Kona Snorkeling Guide for more snorkeling locations.
Related Posts: