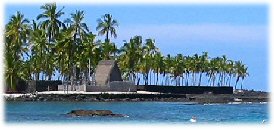 Tropical beaches… lush rain forests… dramatic coastal cliffs — with these and other attractions, Hawaii is more than just America's 50th state or a group of islands in the South Pacific. It's a special destination that attracts millions of visitors each year. And getting to Hawaii is a breeze when you purchase airline tickets from our online partners. Since we partner with major airlines, there are plenty of flights to choose from, and our special Web-only deals will save you money, too.
Kailua-Kona Hotels | Waikoloa Hotels | Hilo Hotels | Kona Car Rentals

Our partners can save you money on your trip to Hawaii when you buy a Hawaiian vacation package. By combining our Web-only specials on airline tickets, hotel reservations and car rentals — along with extras that include airport/hotel transfers and activity vouchers — you'll experience the best of the islands at a price that won't break the bank. There are lots of packages to choose from, whether you're bringing along the family or taking a romantic trip for two.
Now that you know more about what Hawaii has to offer, you can book your tropical vacation on our website. Buy your airline ticket to one or more of these beautiful islands. Our partners include the country's leading airlines, hotels and car-rental companies, so you're sure to get great deals when you shop online with us for your Hawaiian getaway.
Kona is famous for sportfishing, snorkeling, sunsets and coffee. It means "leeward" in Hawaiian and stretches along the isle's west side. The northern portion of the Kona side is also known as the Kohala district.  You will observe a slew of different terrain features as you travel up and down the coast.  Up north, the scenery is dominated by arid dried lava beds.  Little rain and plenty of sun add to this landscape making it the spot for hotels, championship golf courses and Hawaii resorts.  You will find the Big Island's beautiful beaches dotting the entire coastline.  Check out our new Hawaii Cruise Guide.
Visiting Oahu?  Check out our Cheap Waikiki Hotels page for discounts.
Airfare | Hotels | Travel Rebates | Souvenirs | Maps | Guide Books