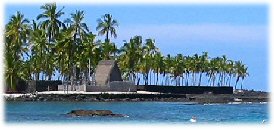 We offer highly targeted marketing.  Our website produces over 200,000 page views a month and 70,000 unique visitors a month.  Reach your target audience by advertising on our website.  We are the authority on vacation travel to the Big Island of Hawaii.  We offer our website visitors unparalleled access to hundreds of photos, videos, virtual tours, interactive maps, detailed narrative, and travel planning articles about the best things to see and do on the Big Island.  We have carefully documented all of the best beaches, ocean activities, sightseeing spots, the Volcanoes National Park, and much more.  Find out more about us.
We offer a variety of advertising packages.  Most banner ads are reasonably priced and will help you reach your target audience.  We tailor our ad packages to personally meet your business needs, including flat-rate (monthly fee) ad space.  Join our advertisers and learn the secret of cost-effective advertising specifically targeted toward the Hawaii vacation seekers and Big Island enthusiasts.  Contact us for advertising opportunities.
Contact us for the latest traffic estimates and advertising packages!  There's no better advertising opportunity for Hawaii and travel related businesses today!