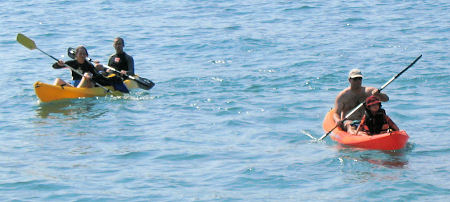 For the first timer to the seasoned pro, the Big Island offers a myriad of kayaking opportunities, from the placid to the adventurous. Kayaking is much easier than you think. You can make a lazy day of it or a wild adventure depending on the route you pick. Rental kayaks are available at various island locations or you can book a guided tour.

When you kayak down the beautiful Hawaiian coast like the native Hawaiian once did with their canoes, you will explore some of the most breathtaking scenery, both above and below sea level.

Paddle below towering cliffs and into sea caves. Snorkel gorgeous underwater coral landscapes while colorful tropical fish accompany you. You will be completely amazed by the breathtaking scenery. Take your time to admire Hawaii - go at your own pace with your own kayak. You can even fit SCUBA tanks and diving gear on your kayak!
Best Kayak Spots
You can kayak the entire Big Island, but there are some unique kayaking spots that you must not miss. In South Kona, make sure you visit the marine sanctuary at Kealakekua Bay.
This secluded bay offers magnificent snorkeling and diving at the Captain Cook Monument is only accessible by water. Hawaiian Spinner Dolphins are spotted

regularly in the early morning here!
Looking for adventure? Kayak to the sea caves at Honaunau and the sea caves at Keauhou Bay. Both offer excellent kayaking, snorkeling, diving and even cliff jumping. Keep an eye out for the sea turtles and spinner dolphins! Want more adventures? For more tips and info, check out the Big Island Adventure Guide.
Kayaking Tours on the island of Hawai'i - CLICK HERE!
We recommend two people rent one two-person kayak rather than two individual kayaks. With your rental, you get a soft rack that fits any vehicle, paddles, a dry bag (for cameras, wallets, etc.), a cooler (for lunch), and tie down straps for Kayaking at the sea caves near Keauhouyour gear.
If you have not used a kayak before, make sure you ask for instructions. Feel free to ask the shopkeeper for directions to the best kayaking / snorkeling locations as well. You can also rent snorkeling equipment from one of these stores. However, if you are planning to dive at Kealakekua - Captain Cook, you must get your tanks from one of the dive shops in Kailua beforehand.
Before you go kayaking, for your safety make sure you check out the latest Big Island Weather. Take a look at the wind and wave forecast to make sure there are no high winds or small-craft advisories.
Recommended packing list

snorkeling / SCUBA diving gear, sunscreen, water (there is no place to get water at Captain Cook), food. We highly recommend buying or renting an underwater camera — even a disposable one — to capture the vast array of fish, coral, and maybe even dolphins!
Hawaii Kayak Tips
For more beginner and advanced kayaking tips, check out our detailed Big Island Kayak Tips. Read about how to paddle, how to snorkel and dive off of the kayak, and more.

Kayak along beautiful sea cliffs, over underwater lava tubes, into mysterious sea caves and go snorkeling in aqua waters filled with tropical reef fish! After traveling along sea cliffs adorned with interesting arches and blowholes, you'll kayak into a sea cave with pink walls and electric blue waters. Explore a protected, clear, calm cove for snorkeling and swimming.

Join Sea Quest for a rafting adventure along the Kona Coast! Explore lava tubes and sea caves, and enjoy snorkeling at the Place of Refuge and Captain Cooks Landing! After snorkeling, you'll enjoy a breathtaking cruise along the Kona Coast taking in the spectacular coastline and exploring ancient lava tubes and sea caves.
Related Posts: