Don't believe it if anyone tells you the Big Island lacks beaches. It actually has 80 or more, and new ones appear — and disappear - regularly. In 1989 a new black-sand beach, Kamoamoa, formed when molten lava shattered as it hit cold ocean waters. Kamoamoa was the largest of the black-sand beaches, Kua Bay white sand beachmore than ½ mile long and 25 yards wide, until it was closed by new lava flows in 1992. Some beaches are just a little hard to get to- several are hidden behind elaborate hotels or down unmarked roads. For additional details on the best beaches to visit, check out our favorite Big Island Beach Guide.
Note that many beaches have dangerous undertows — rip currents and pounding shore breaks may cause serious risk anywhere, at any time. The surf tends to get rough in winter. To be safe, swim only when you see other visitors swimming in the area. Local surfers are not an indication that the area is safe. Few public beaches have lifeguards. Always survey the water and wind conditions prior to entering the water. Check the weather forecast.That said, the most beautiful and swimmable white-sand beaches stretch along the Kohala Coast.
And they are truly spectacular. Beaches below are listed in a counterclockwise direction around the island, starting from the northern tip. For overnight permits, necessary at all parks, contact the Department of Land and Natural Resources for state parks and the Department of Parks and Recreation for county parks.
Big Island's Best Beaches
Big Island Beaches
Counter-Clock-Wise from Northern Tip of Big Island
WEST HAWAII BEACHES (KONA-SIDE)
Keokea Beach Park

Driving back from the end of Highway 270 at the Pololu overlook to the north, you'll see a curvy road angle off to the right. Follow it for a mile, past the cemetery with the weathered old stones, and you'll come upon the green lawns and large picnic pavilion of Keokea Beach Park. The black-boulder beach is suited for fishing in the calm summer months, but heavy surf makes this a hazardous swimming beach. Picnic tables, rest rooms, showers, drinking water, electricity, and a campsite make this a popular weekend destination for local folks. Off Hwy. 270, near Pololu overlook, PHONE: 808/961-8311.
Mahukona Beach Park

Next to the abandoned Port of Mahukona, in the Kohala District, where sugar was once shipped by rail to be loaded on boats, Mahukona Beach's old docks and buildings are a treat for photographers. Divers and snorkelers can view both marine life and remnants of shipping machinery in the clear water. Water activities are often off-limits, however, due to heavy surf. This is a pleasant picnicking spot, with rest rooms, showers, and a camping area, but no sandy beach. Off Hwy. 270, Mahukona, PHONE: 808/961-8311.
Lapakahi State Historical Park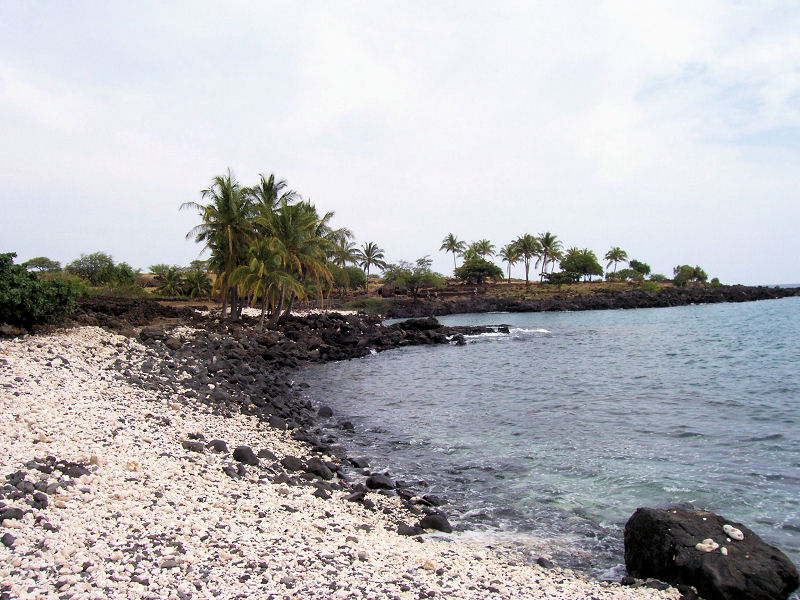 Lapakahi is located north of Kawaihae, and was once an ancient Hawaiian fishing village. This fine historical Park offers lessons in Hawaiian history and archaeology as well as a fine marine preserve to explore. Just a short walk North lies Mahukona State Park, a favorite swimming and snorkeling spot, complete with barbeque pits, toilets, showers and camping (by permit).
Spencer Beach Park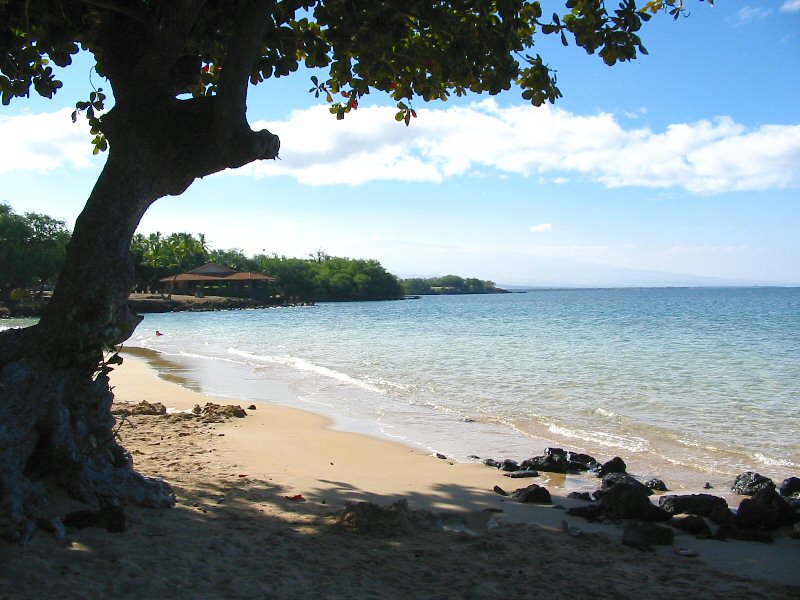 This spot is popular with local families because of its reef-protected, gently sloping white-sand beach, and it's safe for swimming year-round. Snorkel with the sea turtles here! Close to large shade trees are cooking and camping facilities, showers, abandoned tennis courts, and a large covered pavilion with electrical outlets. You can walk from here to the Pu'ukohola and Mailekini heiaus. Entry road off Hwy. 270, uphill from Kawaihae Harbor, PHONE: 808/961-8311.
Kauna'oa Beach at Mauna Ke'a Beach Hotel

It's a toss-up whether this or neighboring Hapuna is the most beautiful beach on the island. Kauna'oa unfolds like a white crescent, and it slopes very gradually. It's a great place for snorkeling. In winter, however, the powerful waves can be dangerous. Amenities are hotel-owned. Public parking places are limited, and it's first-come, first-served. Entry through gate to Mauna Ke'a Beach Resort, off Hwy. 19.
Hapuna Beach State Park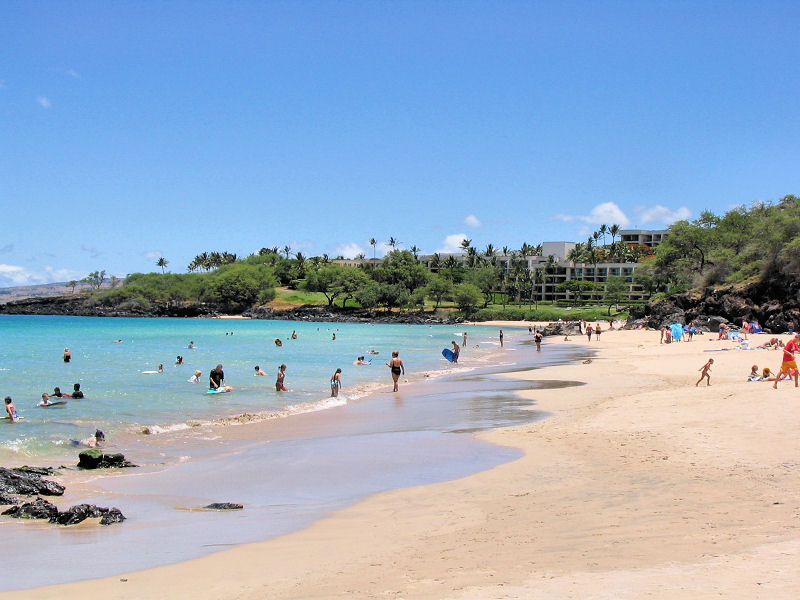 This beach, part of a 61-acre park, forms a ½-mile crescent of glistening sand guarded by rocky points at either end. The surf can be hazardous in winter, but in summer the gradual slope of the beach can stretch as wide as 200 ft into a perfectly blue ocean — ideal for swimming, snorkeling, and body surfing. State cabins are available, and there is a convenient snack bar. Lifeguards are not always on duty, so take care. Between Mauna Ke'a Beach and Mauna Lani resorts, off Hwy. 19, PHONE: 808/974-6200.

Waialea Beach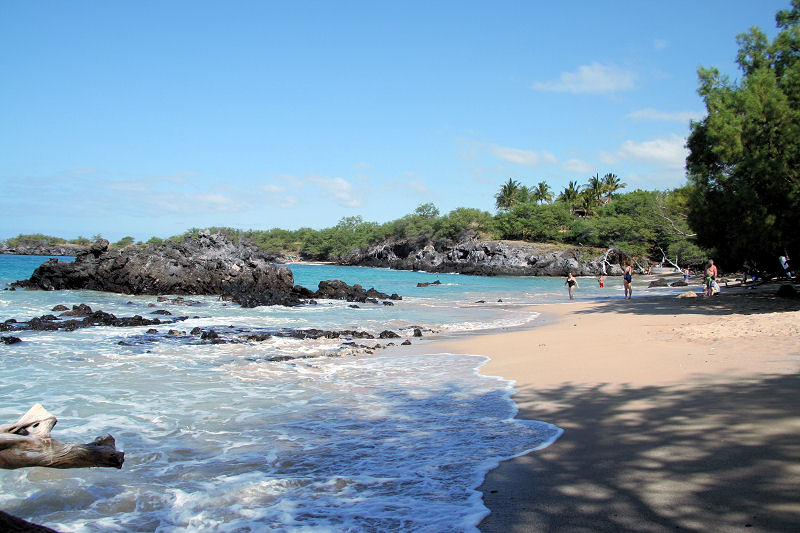 Waialea beach is located at Waialea Bay, along the paved road near the 69 pole marker adjacent to Hapuna Beach. This secluded white sand beach is surrounded by groves of trees and foliage that provide a lot of shade. This inlet is fairly protected, offering calm, clear waters and a sandy bottom for swimming. You won't find any crowds at this beach.
Holoholokai Beach Park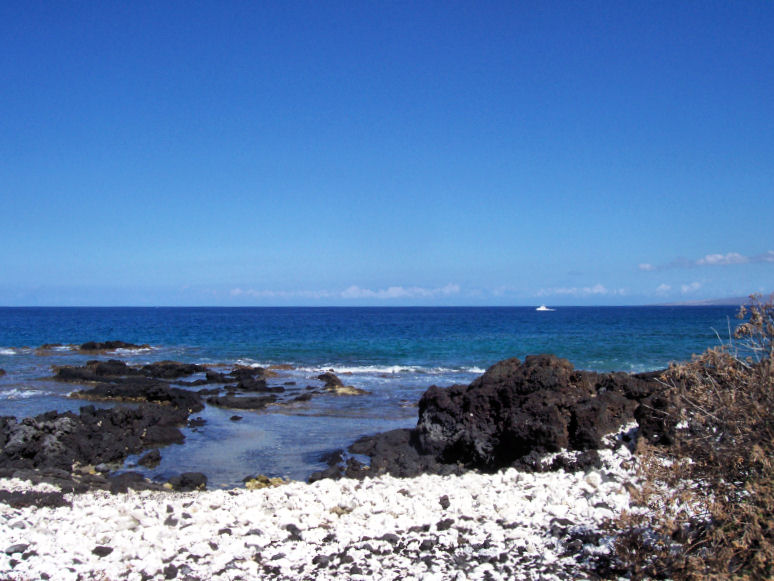 A rocky beach of black-lava formations and white-coral clinkers is fine for surfers and snorkelers, and a small grassy area is available to sunbathers. Bathrooms, picnic tables, and barbecue grills are nicely maintained. Just before the beach park, you can explore historic Puako Petroglyph Park: Malama Trail meanders [7/10] miles through brush and kiawe trees to an area of lava covered with the ancient etchings of Hawaiian figures and animals. Off Hwy. 19 at Mauna Lani Bay Hotel and Bungalows.

'Anaeho'omalu Beach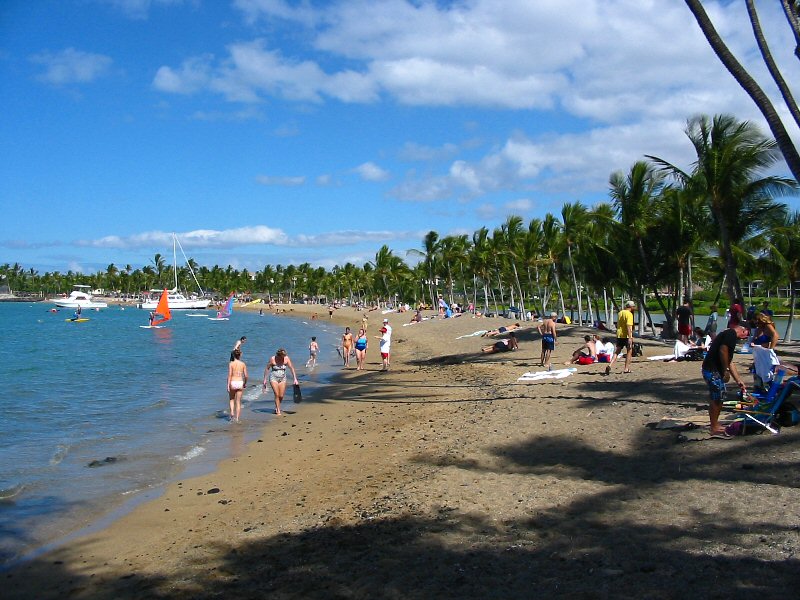 Anaehoomalu Bay is located adjacent the Outrigger and Hilton Waikoloa Resorts. This expansive beach on the west coast, also known as A-Bay, is perfect for swimming, windsurfing, snorkeling, and diving. Some equipment is for rent at the north end. Be sure to wander around the ancient fishponds and petroglyph fields. Follow Waikoloa Beach Dr. to Royal Waikoloan Resort, then follow signs to beach right-of-way to south. Follow Waikoloa Beach Dr. to Royal Waikoloan Resort.

Ki'holo Bay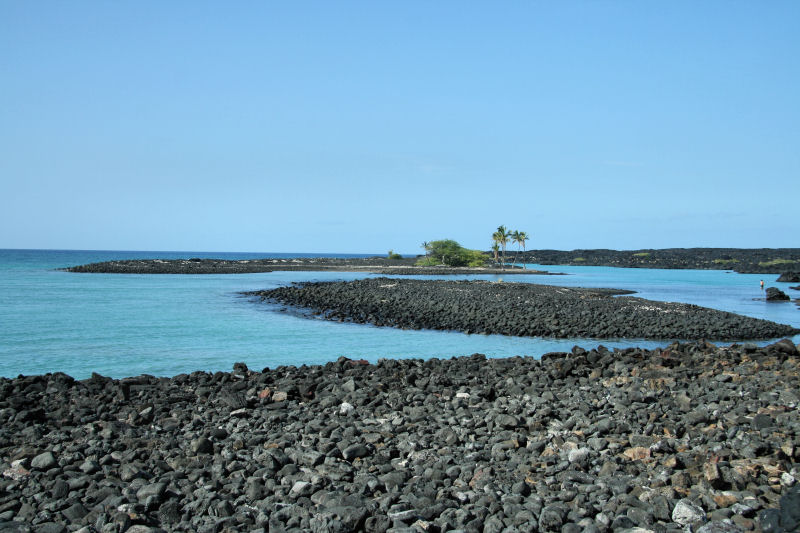 The unmarked road across a vast lava field requires a 20-minute hike, so take plenty of water. Private homes are built along the oceanfront. The huge, spring-fed Luahinewai Pond anchors the south end of the bay, and the three black-pebble beaches are fine for swimming in calm weather. At the northern end, Wainanali'i Pond (a 5-acre lagoon) is a feeding site for green sea turtles. The two ponds are off-limits to swimmers. Kamehameha I had a well-stocked fishpond here that was destroyed by lava in 1859. You'll find good swimming here but no facilities. Hwy. 19, Mile Marker 81.
Kahuwai Bay Beach

This sandy beach is located adjacent the Kona Village Resort and is surrounded by groves of palm trees. There are scattered lava rocks forming a natural barrier in the shallow water. You can regularly see turtles basking on the beach here. The sunsets are pretty at this beach.
Kuki'o Beach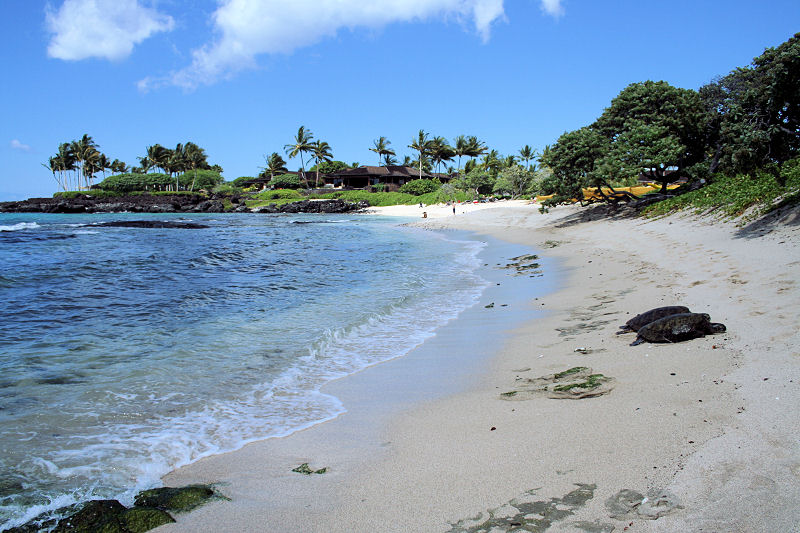 Kuki'o Beach is another pretty Kohala beach located just north of Kikaua Point, accessible at the Hualalai, Four Seasons Resort. This scenic, long crescent of white sand is surrounded by shady palm, ironwood, and kiawe trees. You will frequently see turtles swimming in the shallows or basking on the beach.
Kikaua Point Beach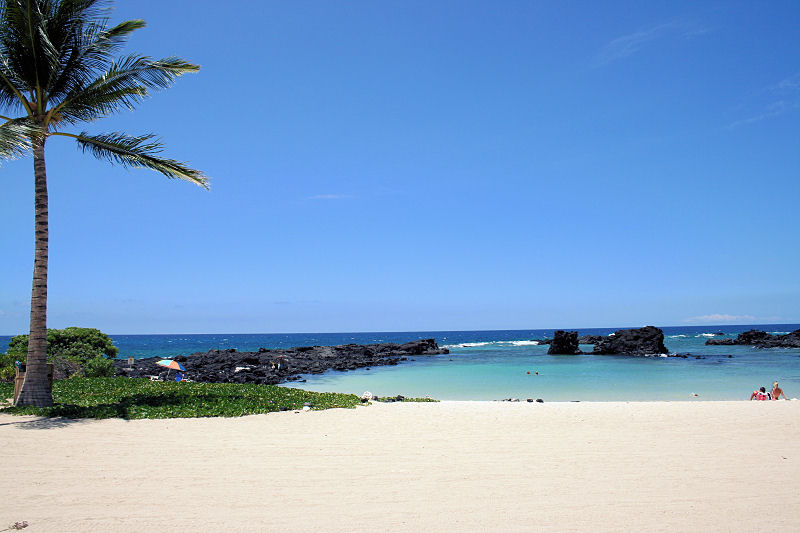 Kikaua Point Beach is located approximately 10 miles north of Kailua-Kona, adjacent the Kukio Golf Resort.  Kikaua Point Beach is on the of prettiest, family beaches on the Big Island.  Lava rocks and large groves of shady trees surround the white sand bottomed cove.  The waters in this cove are protected and calm.  There are showers, bathrooms, and water fountains here.

Kua Bay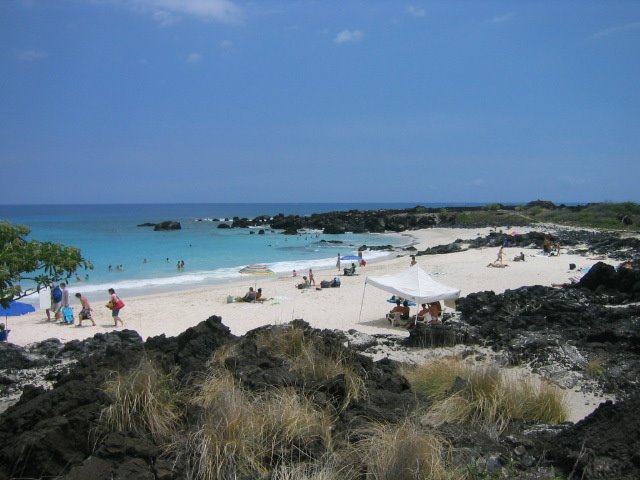 Located off the Queen Ka'ahumanu Highway (19) north of Kona between mile markers 88 and 8, Kua Bay offers a scenic white sand beach gently sloping down into the ocean. The beauty of the white sand beach and light blue waters is breathtaking - no doubt, this is one of the prettiest beaches on the Island.  There are no trees or shade here.  During calm conditions, the swimming and snorkeling are excellent and easy.  In October 2005, a new paved road was completed leading to Kua Bay.

Makalawena Beach

The beautiful beach of Makalawena stretches over 5 cove/inlets and covers an area of about a half a mile to a mile of shoreline.  Makalawena is a remote beach, with few crowds.  Prepare yourself for a 15-20 minute hike just to get to this beach. The trailhead is in the Kona Coast State Park, off Route 19, the Queen Ka'ahumanu Highway. The beach itself lies between mile markers 89 and 90.  The trip is well-worth it, however.  The rough road followed by a hike over a dried lava bed leads you to the teal blue lagoons surrounded by the three crescent-shaped near-perfect white sand beaches.  Beyond the shore are white sand dunes and plenty of shady trees to keep the sun off of you.  A little farther inland, just on the other side of the shade trees is a freshwater pool where you can bathe and wash off the salt and sea before hiking back to your parked car.
Kekaha Kai State Park (Mahaiula Beach)

In an austere setting, this sandy white beach nestles in a bay with gentle surf. It has a limited number of picnic tables shaded by coconut trees fed by bubbling fresh-water springs, but no drinking water. Portable toilets are the only additional facilities. Sign about 1 mile north of Keahole-Kona International Airport, off Hwy. 19, marks rough 1½-mile road to beach. Sign about 1 mile north of Keahole-Kona International Airport, off Hwy. 19. PHONE: 808/974-6200.
Kaloko-Honokohau National Historical Park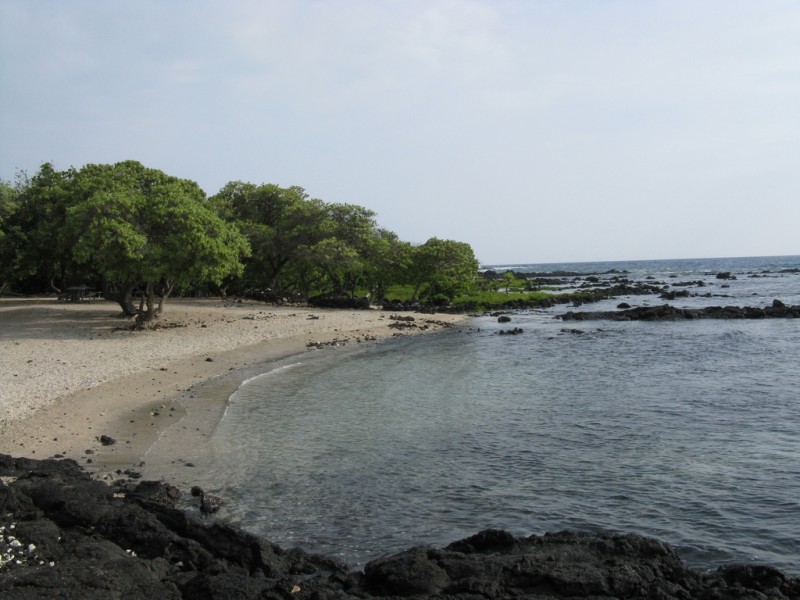 Part of a new 1160-acre park, two beaches, rich in archeology and good for swimming, are down the road from Honokohau Harbor. 'Alula is a slip of white sand, a short walk over lava to the left of the harbor entrance. Honokohau Beach, a ¾-mile stretch with ruins of ancient fishponds, is north of the harbor. At the north end of the beach, a historic trail leads mauka across the lava to a freshwater pool. A Hawaiian settlement up until the 19th century, the park is rapidly being developed as a cultural and historical site. For information about the park visit its headquarters, a 5- to 10-minute drive away. The park is off Highway 19, at Honokohau Harbor; or use the park access between Mile Markers 96 and 97. Park Headquarters, Kaloko New Industrial Park, 73-4786 Kanalani St., #14, PHONE: 808/329-6881, www.nps.gov. Park road gate 8 AM-3:30 PM.

Old Kona Airport Park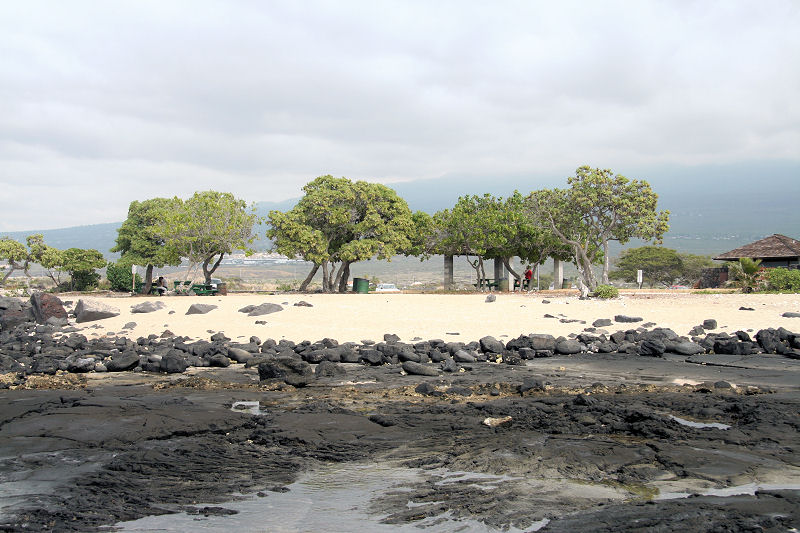 The unused runway — great for jogging or running — is still visible above this beach at Kailua Park, which has picnic tables, showers, bathroom facilities, tennis courts, and palm trees strung out along the shore. The beach has a sheltered, sandy inlet with tidal pools for children, but for adults it's better for snorkeling than swimming. An offshore surfing break known as Old Airport is popular with Kona surfers. North end of Kuakini Hwy., Kona, PHONE: 808/327-4958 or 808/974-6200.

Kamakahonu Beach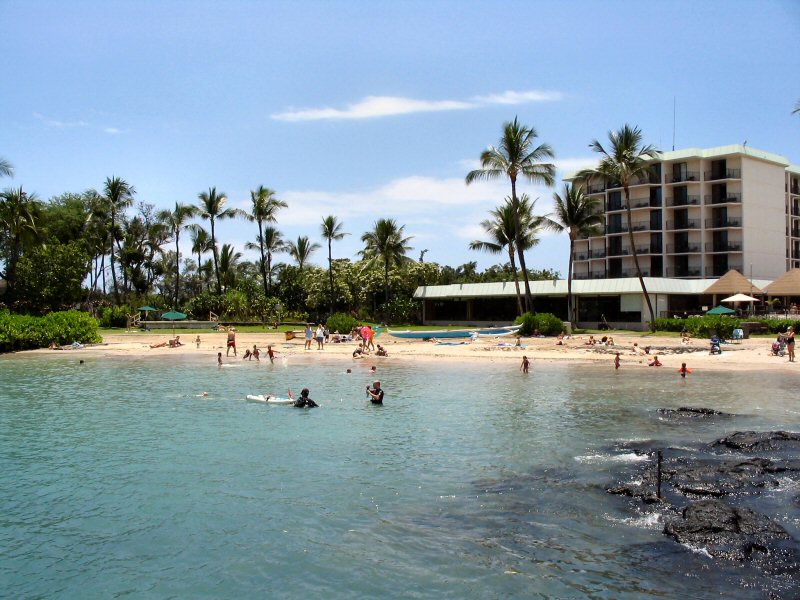 The "King Kam" beach is a popular spot for visitors and locals alike.  This beach is conveniently tucked away between the Kailua pier and the King Kamehameha hotel right on Alii Drive.  The surf is calm so this is a great beach for children.  The sand is white, the trees are shady, and the snorkeling is good - especially outside on the cove.  This is also a popular spot for SNUBA, dive instruction, and swimming.

Kona Magic Sands Beach

Also known as La'aloa Beach, White Sands, or Disappearing Sands Beach Park. Now you see it, now you don't. Overnight, winter waves wash away this small white-sand beach on Ali'i Drive just south of Kailua-Kona. In summer you'll know you've found it when you see the bodyboarders and surfers. A volleyball net, rest rooms, showers, a lifeguard tower, and a coconut grove create a favorite and convenient summer hangout. This beach is officially called La'aloa Bay Beach Pak.  4½ miles south of Kailua-Kona on Ali'i Dr., PHONE: 808/961-8311.

Kahalu'u Beach Park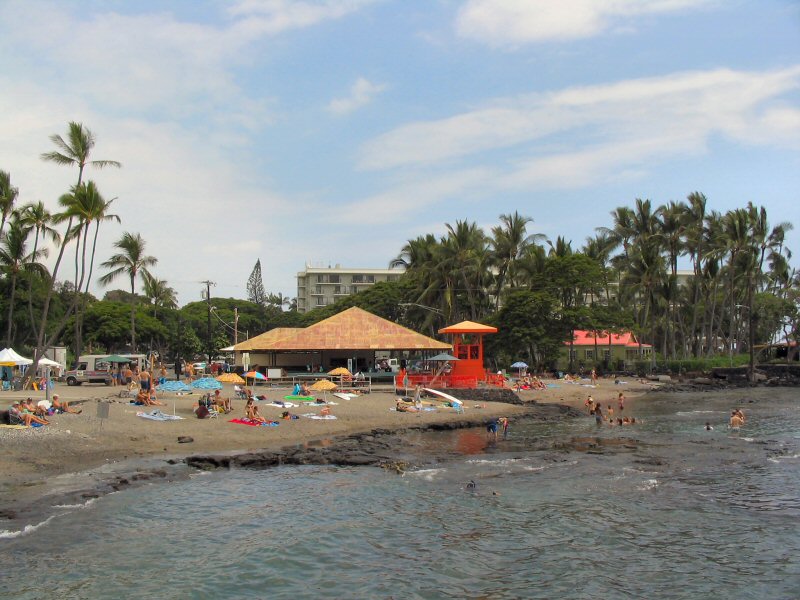 This is one of the best snorkeling spots on the Big Island, with a huge variety of fishes in clear shallow waters.  Swim with schools of colorful fish in these protected waters; don't forget your underwater camera!  The north end of the beach is where the waves break and is best for body boarding and surfing.  Check the water conditions; with ocean swells, the water can be murky.  Facilities include a pavilion, rest rooms, showers, a lifeguard tower, and limited parking. A narrow path takes you directly to the Resort's Beach Bar & Grill, which serves sandwiches and plate lunches. 5½ miles south of Kailua-Kona on Ali'i Dr.,PHONE: 808/961-8311.
Napo'opo'o Beach Park.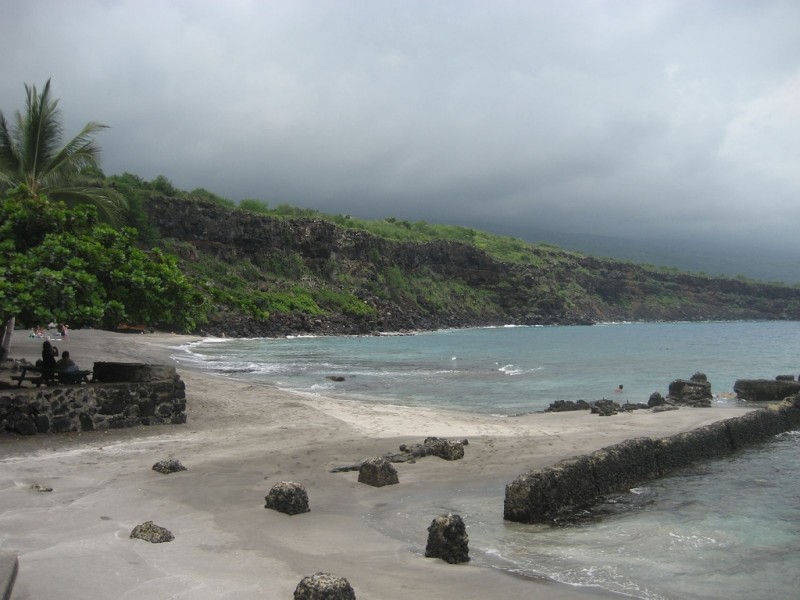 Napoopoo Beach is located on the south side of Kealakekua Bay (near the wharf).  Most visitor's will hear about Kealakekua Bay and the famous Captain Cook monument, but Napoopoo Beach is yet another Big Island beach nearby.  The best way to enjoy this marine preserve is to take a snorkel, scuba, or glass-bottom boat tour from Keauhou Bay. A 27-ft white obelisk indicates where Captain James Cook was killed in 1779. While this six-acre beach park has a picnic pavilion, the beach consists of rocks, making access into the water difficult.  Located at the edge of Kealakekua Bay.
Ho'okena Beach Park.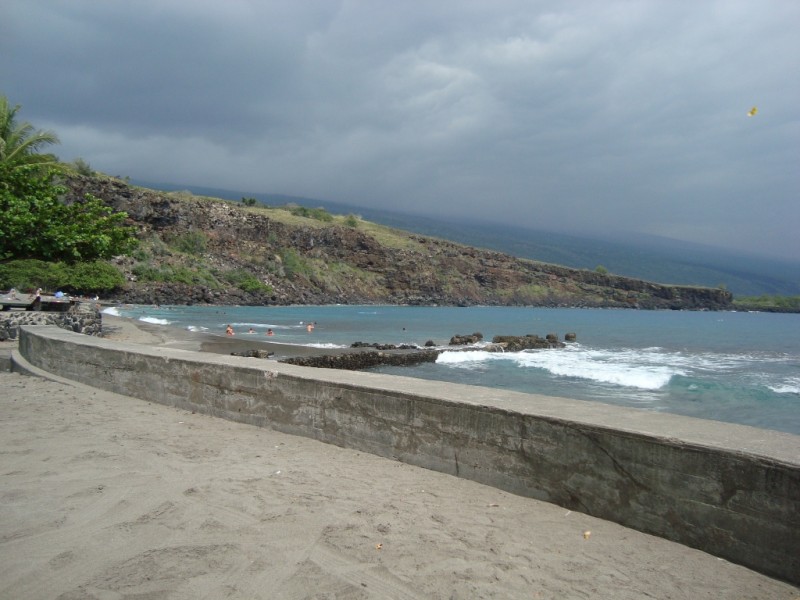 You'll feel like an adventurer when you come upon Ho'okena, at the northern end of Kauhako Bay. When Mark Twain visited, 2,500 people populated the busy seaport village. You can still find gas lampposts dating from the early 1900s. This dark-gray coral-and-lava-sand beach offers good swimming, snorkeling, and bodysurfing. Rest rooms, showers, and picnic tables are available at the park. The access road is narrow and bumpy. It's a two-mile drive down a road bordered by remains of a stone wall off Hwy. 11, 23 miles south of Kailua-Kona. Off Hwy. 11, 23 miles south of Kailua-Kona, PHONE:808/961-8311.
Green Sand (Mahana) Beach

You need good hiking shoes, or a permit and a four-wheel-drive vehicle to get to this truly green crescent, one of the most unusual and prettiest beaches on the island. The beach lies at the base of Pu'u o Mahana, a cinder cone formed during an early eruption of Mauna Loa; the greenish tint is caused by an accumulation of olivine that forms in volcanic eruptions. Swimming is dangerous in this windy, remote area, and there are no facilities. Still, in calm water close to the shore, the aquamarine surf feels great and you find yourself in a surreal grass plain landscape. Drive your 4-wheel drive truck or SUV down the rough 4×4 trail 2.25 miles along the shoreline or walk the trail on foot. Follow the road to South Point from Hwy 11 (in between mile markers 69 and 70).
---
EAST HAWAII BEACHES (HILO-SIDE)

Punalu'u Beach Park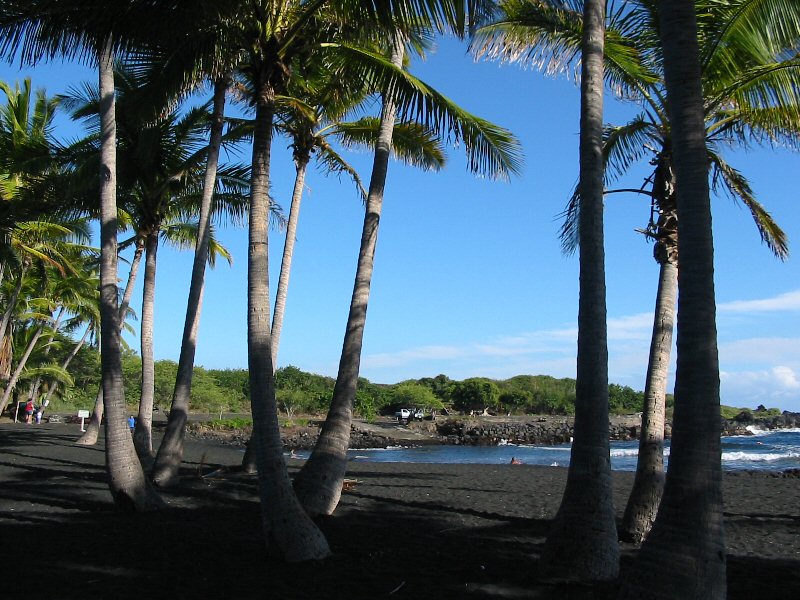 The endangered Hawaiian green sea turtle nests in the black sand of this beautiful and easily accessible beach. Fishponds are just inland. At the northern end of the beach near the boat ramp lie the ruins of a heiau and a flat sacrificial stone. This used to be a sugar and army port until the tidal wave of 1946 destroyed the buildings. Offshore rip currents are extremely dangerous, though you'll see a few local surfers riding the waves. There are rest rooms across the road. Inland is a memorial to Henry Opukaha'ia. In 1809, when he was 17, Opukaha'ia swam out to a fur-trading ship in the harbor and asked to sail as a cabin boy. When he reached New England, he entered the Foreign Mission School in Connecticut, but he died of typhoid fever in 1818. His dream of bringing Christianity to the Islands inspired the American Board of Missionaries in 1820 to send the first Protestant missionaries to Hawai'i. Hwy. 11, 27 miles south of Volcanoes National Park, PHONE: 808/961-8311.
Ahalanui Park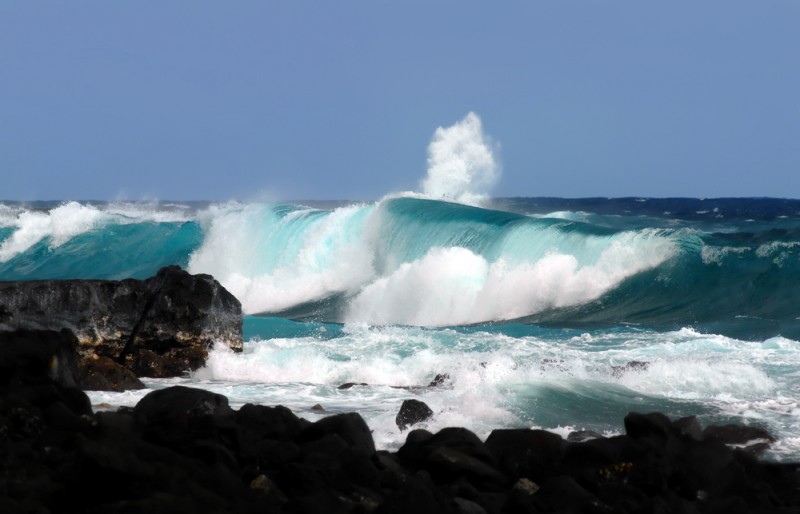 This three-acre beach park with a ½-acre pond heated by a volcanic steam opened in 1993 to replace earlier beach parks that were lost to lava flows. The pond here is good for swimming, but the nearby ocean is rough. Drinking water and a few tables are available for picnicking, and there are portable rest rooms. The park is on the Kapoho coast, southeast of Pahoa, 2½ miles south of the junction of Highways 132 and 137. Puna District, PHONE: 808/961-8311.

MacKenzie State Recreation Area

This 13-acre park shaded by ironwoods is good for picnicking. You can't swim here due to the rocky shore and waves, but it is a pretty place.  There are rest rooms. The recreation area is off Highway 137, 2 miles south of junction with Highway 132. Puna District, PHONE: 808/961-8311.
Isaac Hale Beach Park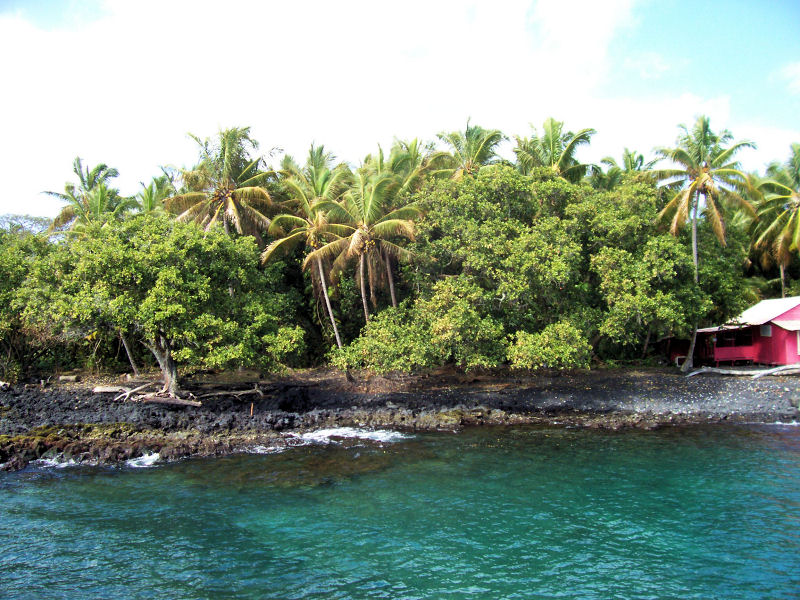 This beach park is known to locals as Pohioki.  Oceanfront park facilities include rest rooms and picnic areas. It's a good place for an afternoon nap but can be dangerous for swimming. If the weather and ocean conditions are calm, there is good snorkeling nearby.  The park is off Highway 137, north of junction with Highway 132. Puna District, PHONE: 808/961-8311.

Leleiwi Beach Park

Near Hilo, along Hilo's Keaukaha shoreline laced with bays, inlets, lagoons, and pretty parks, these two beaches are adjacent to each other. The grassy area is ideal for picnics. The beaches are rocky and dangerous for swimming, though you can dip your feet in the shallow areas. Follow Kalaniana'ole Avenue east along the water about 4 miles south of Hilo. 2349 Kalaniana'ole Ave., PHONE: 808/961-8311.

Richardson Ocean Park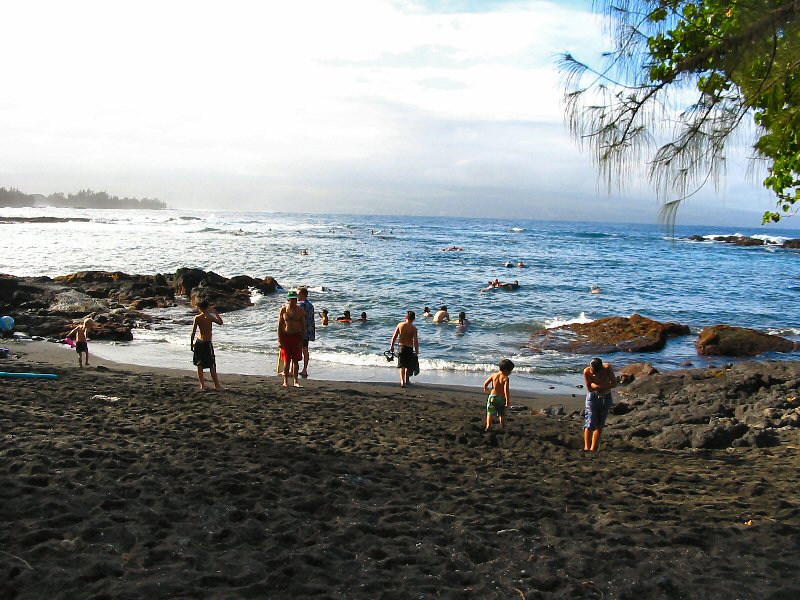 Located adjacent to Leleiwi Beach Park, at the edge of Hilo, along Hilo's Keaukaha shoreline.  The waters at this black sand beach are calm, making it a great spot for snorkeling and swimming.  Facilities include showers, restrooms, and an abundance of lava rock tidal pools to explore.  Follow Kalaniana'ole Avenue east along the water about 4 miles south of Hilo. 2349 Kalaniana'ole Ave., PHONE: 808/961-8311.

Onekahakaha Beach Park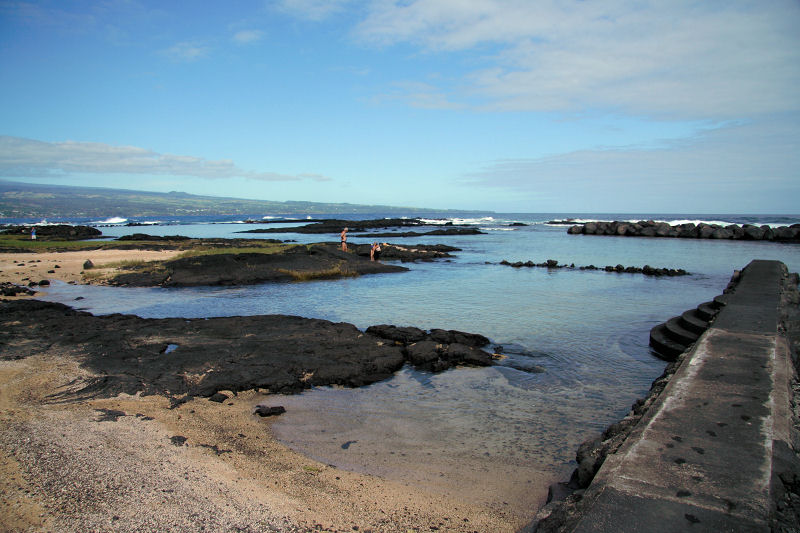 A protected, white-sand beach makes this a favorite for Hilo families with small children. Lifeguards are on duty year-round. The park has picnic pavilions, rest rooms, and showers. Follow Kalaniana'ole Ave. east 3 miles south of Hilo,PHONE: 808/961-8311.


Reeds Bay Beach Park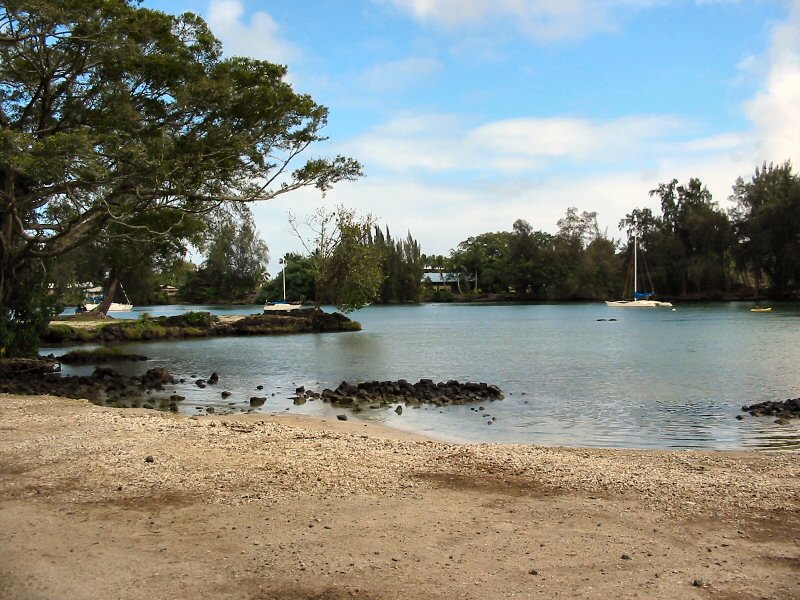 Rest rooms, showers, drinking water, calm and safe swimming, and proximity to downtown Hilo are the enticements of this cove. Cold freshwater springs seep from the bottom of a nearby pond and rise in the saltwater. Banyan Dr. and Kalaniana'ole Ave., Hilo, PHONE: 808/961-8311.
Vote for your favorite Big Island beach by answering the poll question at the bottom-right side of this page.  For additional detailed information on secluded secret beaches of Kona, remote hike-to-only snorkeling, hot springs, waterfalls and volcanoes, check out one of our favorites: Big Island Revealed.
Related Posts: