The Pawai Bay State Fisheries Management is a protected Marine Preserve, just north of Kailua-Kona.  Located half of a mile north of Old Kona Airport Park, Pawai Bay offers crystal clear water and plenty of area to explore. Dive the caves, caverns, arches, and observe the expansive coral reef and tropical fish.
About 10 yards from the shore, the reef is shallow enough to snorkel, with a prolific coral reef.  Beyond that, the reef curves and descends to past 60-feet in depth.  You will see large schools of fish, moray eels, turtles, and the occasional Spinner Dolphin.  The shallowest portions of the reef are just to the north of the mooring buoy - this is the best portion of the reef for snorkeling.
Pawai Bay is a secluded location - most people reach this spot by joining a snorkel or dive charter.  However, if you would like to venture yourself and avoid the crowded tour, you can either hike the short trail from the Old Kona Airport (north end of runway) to the small strand of trees surrounding a sandy beach.  Or you can paddle approximately 1.5 miles (each way) by kayak from Kailua Bay.  Either way, your trip will be rewarded by amazing under-sea life and beautiful above-water scenery.  We did the kayak trip and dived from our kayaks after mooring it to a floating buoy at Pawai Bay.  The diving was great and the voyage was wonderful.
For beginner and advanced kayaking tips and advice, check out our detailed Big Island Kayak Tips.  Read about how to paddle, how to snorkel and dive off of the kayak, and more.   Looking for a guided tour?  Check out our partner site with guided snorkel and kayak tours of the Big Island.
Kayak Guide | Snorkeling | Snorkeling Tips | SCUBA Diving | Diving Tips
Hawaii Ocean Activities
Snorkeling Tours of the Big Island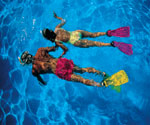 We offer a variety of guided snorkel tours for all ages and abilities.  Designed for beginners and adventurers alike, you'll paddle along the scenic Kohala Coast and enjoy excellent snorkeling in warm, clear Hawaiian waters.  Discover the Big Islands most remote snorkeling spots along the pristine Kohala Coast, Pawai Bay, Kealakekua Bay, and more.  Check out our large sail and snorkel tours and our exciting zodiac tours for smaller groups.
Body Glove Snorkel Dolphin Sail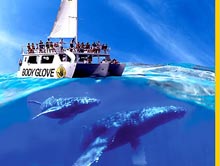 Go sailing with Body Glove Cruises - see playful Hawaii dolphins, and snorkel with brilliantly colored tropical fish and sea turtles on a snorkeling adventure at Pawai Bay, near Kona on the Big Island of Hawaii!  The whole family will love the 15-foot waterslide, and the high-dive platform makes a big "splash" with the kids, as well as those who are kids at heart.

Fair Wind Kealakekua Bay Snorkel
Slide down the Fair Wind II's water slide into the pristine waters of Kealakekua Bay, a marine sanctuary, and enjoy snorkeling or diving with 80-100 feet visibility!  Everything you'll need for snorkeling is provided – masks, snorkels, fins, etc. 
Related Posts: