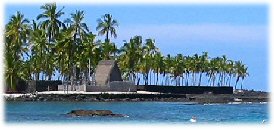 We have been traveling the Big Island of Hawaii for over thirty years and have become intimately familiar with the wonders that it offers.  Browse our website to help you plan your next vacation to the Big Island of Hawaii. Our travel guide offers an unparalleled collection of photos, videos, both on land and underwater, to help you plan your Hawaiian vacation.  Skip the guided tours and let us show you the Big Island.
We created this website to show you the wonders of Hawaii and the incredible adventures that you can experience when you wander "off the beaten track" of the mega-resort hotels.  We offer insider knowledge to the best attractions on the Island.  No where else will you find this in-depth coverage.  Whether you are a seasoned outdoorsman or part-time tourist, you will find this site the most comprehensive guide to the Big Island.
We offer hundreds of photos, videos, virtual tours, interactive maps, and detailed narrative about the best things to see and do on the Big Island.  We have carefully documented all of the best beaches, ocean activities, sightseeing spots, the Volcanoes National Park, and much more.  Let us be your virtual guide to the Big Island.  Whether a first time visitor or long-time fan, you will undoubtedly learn something new here!
Recently we started our Big Island Blog to post our detailed adventures and travel-logs online.  Check out our personal stories about the Big Island.  Check out our new Big Island Travel Planner with articles and resources to help you plan your next Hawaiian vacation.
We want to hear from you!  Please send us an email to let us know what you think about our website, or share with us your latest Hawaiian adventure.  Interested in advertising on our website?  Check out our advertising page.
For additional detailed information on secluded secret beaches of Kona, remote hike-to-only snorkeling, hot springs, waterfalls and volcanoes, check out one of our favorites: Big Island Revealed.
Follow us on Facebook
Become a fan - follow us on Facebook and receive a copy of our Big Island Family Vacation Planner e-book.
Free 55-Page Travel Guide
Download our free 55-page Travel Guide by signing up (see sidebar on the right).
Big Island Photography

We are avid photographers, and have taken great pride in the thousands of photos and videos that we have taken for this website.  The scenery on the Big Island is so spectacular that it will make anyone an excellent photographer - us included!  We own a variety of Canon digital cameras 

and use them for all of our photos on this website. 
Our first camera was the Canon EOS Digital Rebel XT, 8.2 Megapixel digital SLR camera.  Since then, we've added a few new lenses to enhance our photographic range, including the Canon 17-85 IS andCanon 15-86 IS. 
We recently added a new DSLR to our inventory, the Canon EOS 7D,  bringing enhanced capabilities — an 18MP APS-C CMOS sensor, Dual DIGIC 4 processors, ISO range expandable to 12800, continuous shooting at 8 fps and full HD video recording.
Additionally, we use two Canon Digital Elph  cameras 

paired with anunderwater case 

for our underwater photos and videos.  With an underwater scene mode that filters out the blue light distortion, this camera is very capable.  For our panorama shots and low-light or night-time shots, we use a tripod and Canon's wireless remote control 

to reduce camera vibration.