Who says the diving in Hilo isn't good? I recently went back to Leleiwi Beach Park, where I have dived dozens and dozens of times. I still enjoy it each time - there is abundant coral and fish life, and the main attraction the 10-30 turtles that you will see each dive. I'll make this post more of a photo essay:
The water conditions were exceptional this dive - great visibility, especially for Hilo. I saw more fish on this dive than I have in the past at Leleiwi; in fact, the water was teeming with colorful tropical fish! The coral was colorful, diverse, and lush. The water entry was a little tricky with high tide and a surging surface state - we simply timed our entry in between sets and made it fine.
I have seen more than thirty turtles on a dive here at Leleiwi. I enjoy observing their impressive presence underwater; some of the adult turtles here are without a doubt older than I am. I see many of the turtles resting gently on the reef, in caves and holes between the coral, and in sandy clearings underwater. Some of the younger adolescent turtles are happily swimming about, curious of me as I am of them.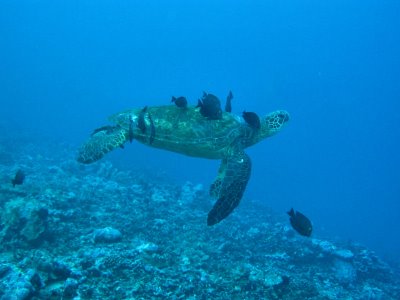 If you are lucky you will see a turtle cleaning station where fish help the green sea turtle by cleaning his shell. This turtle happened to pose ever so patiently for me to steady my camera and take the shot!
Related Posts: