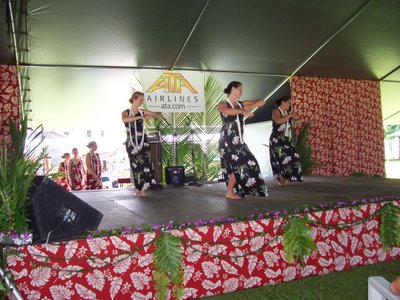 Last week, the Hilo was not its usual sleepy town. It was alive, all the hotels sold out, visitors filling the streets, and everywhere were the cheery sounds of Ukulele married to the wonderful sights of hula dancers.
The week after Easter is when the annual Merrie Monarch Hula Festival takes place. It is the largest and most prestigious hula festival in all of Hawaii and takes place annually in the town of Hilo.
If you plan on attending make your reservations early - every single hotel room in town is sure to be booked. The festivities include many outdoor hula shows, the grand parade through downtown Hilo, and the Hula Competition. The grand parade is a sight to see, with floats decorated in traditional island decor, marchers dressed in colorful aloha prints, and many bands - from your traditional marching band - to ukulele players.
The Hula Competition is a must-see event, and just like all else this week, will be sold out early. If you can't make the competition, you can still see various hula shows during the day at scenic outdoor venues. This is a wonderful celebration of Hawaiian culture and a great way to enjoy traditional hula as it is passed on from one generation to the next.
Related Posts: