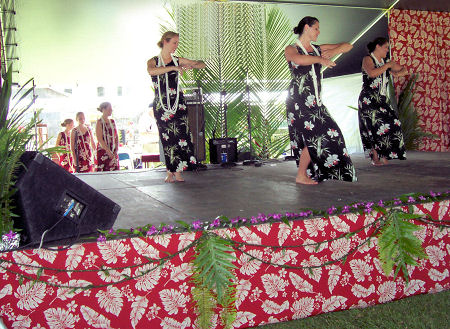 The real Merry Monarch was King Kalakaua, who ruled from 1874-1891. He traveled widely and met world leaders including President Grant and Queen Victoria. The Merrie Monarch Festival is a week-long cultural event held annually each year in the town of Hilo on the Big Island. Normally the Merrie Monarch week begins Easter Sunday, but in 2008 it will be postponed so as not to conflict with another festival. The festival includes a grand parade through downtown Hilo, live Hula dancing, craft fairs, and the grand finale, Hawaii's most prestigious Hula competition show. Festivities normally start on Easter Sunday and culminate with the hula competition events.
The Hula competition takes place over three nights where hula dancers from all the islands, California, and Nevada performing for seven minutes in front of the judges. The dancers have researched and rehearsed all year and their dances will include inspiration from ancient Hawaiian history. The winner earns the prestigious title of Miss Aloha Hula. The competition is divided into the hula kahiko - the ancient style of dance with drums and chants in the background, and the hula 'auna - modern style dance, with guitar accompaniment.
In addition to the usually sold-out competition, festival organizers plan for a slew of free hula dancing exhibitions around Hilo. The Merrie Monarch Festival has taken place annually since its inception in 1971.
Come and see traditional hula performed to the rhythm of ancient Hawaiian drums honoring Hawaii's noble heritage at the Royal Court Investiture at the Hawaii Volcanoes National Park.
Related Posts: