Halemaumau Crater, Kilauea Volcano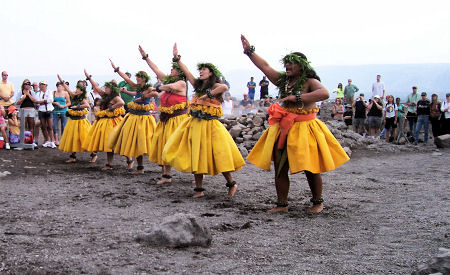 The Aloha Festivals Royal Court Investiture (Ka Ho'ola'a O Na Ali'i) is held the last Saturday in August each year at the Halema`uma`u Crater in the Hawaii Volcanoes National Park.  Pele, the Hawaiian Fire Goddess, is said to reside in Halemaumau Crater at the summit of Kilauea, where this ceremony takes place.  Festivities include ceremonial chant and hula dancing accompanied by the entrance and exit of the royal court, all adorned in traditional clothing.
Come and see traditional hula performed to the rhythm of ancient Hawaiian drums honoring Hawaii's noble heritage.  For more information, visit the Aloha Festivals website.
Related Posts: