I have just returned from a week to the island of Kauai. Although this website and blog are meant to concentrate on "all things Big Island", I will indulge you with a few musings and anecdotes from my trip to Kauai. In the near future, I will be posting detailed travelogues, photos, videos, and virtual tours about Kauai on a separate website…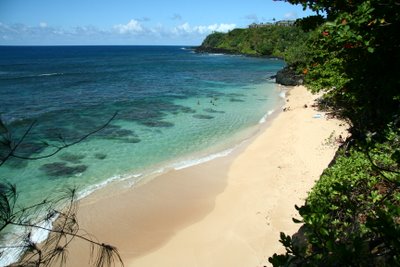 When first arriving Lihue Airport I marveled as to how similar in layout and appearance it was to the Hilo Airport! On the arrival and landing, our plane came in low over the ridge (south of the airfield) and took a hard right descending turn to touchdown - it was pretty exciting and the (close up) view of the lushly vegetated mountains and rugged terrain was unbelievable. Kauai was a sight to behold.
My initial impression of the island was that it was very scenic and captured a lot of the feel from "Old Hawaii" - much like the eastern (Hilo) side of the Big Island does. Kauai has a lot of small towns with a few roads connecting inbetween - mostly one lane each way with a guaranteed view of the mountains from any spot on the island! There are a lot of white sand beaches on Kauai - some are small and hidden by dense foliage or palm trees, others are wide open long stretches of sand (several miles) lined with surfers enjoying a favorable break — the beaches reminded me of many in Kohala on the Big Island, minus the dried lava fields. There are beaches on all four coasts of Kauai - however, the Western shore (Na Pali Coast) is nearly inaccessible…
The weather was as unpredictable as Hilo / Hamakua - with guaranteed early morning showers, and spotty rain here and there inbetween bright blue tropical skies. Without a doubt Kauai was very pretty - we wanted to stop our car nearly every mile on nearly every drive to take pictures of the scenery. Like I always tell my friends, Hawaii will turn anyone into a good photographer - and Kauai is no exception.
Related Posts: