Keauhou Bay
Keauhou Bay is located at the end of Ali'i Drive, just South of Kailua-Kona.  It is a picturesque, protected harbor filled with boats, surrounded by up sloping dried lava beds.  There are some impressive sea caves and cliffs just South of Keauhou Bay and easily accessible by Kayak.  Launch your Kayak from the Keauhou Bay Harbor.  You can even rent your kayak right there at the water's edge - that way you don't even have to transport the kayak by car.  Rent a kayak yourself or join a guided kayak tour.
Kayak to the Sea Caves

Kayak straight out of the harbor favoring the South side of the bay - adjacent to the hotel resort perched on the towering cliffs above.  Continue South around the point and beyond the resort premises.  As you continue South, the coast will curve in, and as you kayak in a South Easterly direction, you will see the sea caves ahead of you.  There are large cliffs behind and all around as well.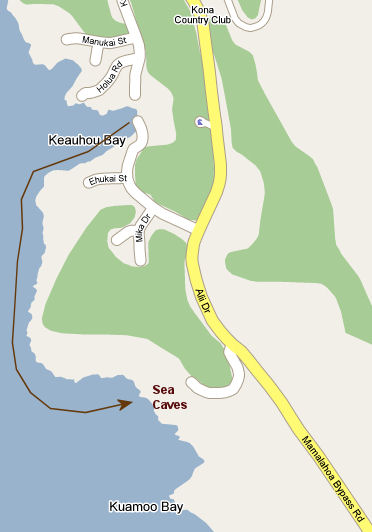 Courtesy Google Maps
There are several caves for you to explore.  You can kayak right into the caves or simply admire them from the outside.  You can even put on your mask and snorkel and swim in the crystal clear waters around the caves.  Admire the undiscovered underwater scenery and colorful coral habitats below.
Jump Off the Cliffs
If you position your kayaks carefully, you can also climb some of the cliffs adjacent to these caves and perform a few breath-taking cliff jumps into the ocean below!  Take your time and enjoy he spectacular scenery - after all, you just kayaked all the way out here!
You can kayak the entire Big Island, but there are some unique kayaking spots that you must not miss.  In South Kona are Keauhou Bay, Kealakekua Bay, and Honaunau, both excellent kayaking, snorkeling and diving spots.  Keep an eye out for the sea turtles and spinner dolphins!
Feeling adventurous?  Kayak to the Sea Caves at Honaunau.
We recommend two people rent one two-person kayak rather than two individual kayaks.  With your rental, you get a soft rack that fits any vehicle, paddles, a dry bag (for cameras, wallets, etc.), a cooler (for lunch), and tie down straps for your gear.  If you have not used a kayak before, make sure you ask for instructions.  Feel free to ask the shopkeeper for directions to the best kayaking / snorkeling locations as well.  You can also rent snorkeling equipment from one of these stores. Kayaking Tours on the island of Hawai'i - CLICK HERE!
Hawaii Kayak Tips
For more beginner and advanced kayaking tips, check out our detailed Big Island Kayak Tips.  Read about how to paddle, how to snorkel and dive off of the kayak, and more.

Kayak along beautiful sea cliffs, over underwater lava tubes, into mysterious sea caves and go snorkeling in aqua waters filled with tropical reef fish!  After traveling along sea cliffs adorned with interesting arches and blowholes, you'll kayak into a sea cave with pink walls and electric blue waters.  Explore a protected, clear, calm cove for snorkeling and swimming.

Join Sea Quest for a rafting adventure along the Kona Coast! Explore lava tubes and sea caves, and enjoy snorkeling at the Place of Refuge and Captain Cooks Landing!  After snorkeling, you'll enjoy a breathtaking cruise along the Kona Coast taking in the spectacular coastline and exploring ancient lava tubes and sea caves.
Related Posts: