I recently spoke with friends of mine that took a trip to Hawaii a few years ago. I asked them what island they went to and they responded "the Big Island - you know, the island with no beaches!" Needless to say, I was shocked that they thought of the Big Island as a place with no beaches!
Certainly, there is no Waikiki equivalent on the Big Island, but any visitor or resident will let you know there are plenty of beaches on the Big Island to satisfy anyones beach-going taste. I immediately guessed that my friends probably stayed in a hotel that did not have an adjacent beach. I was right, they stayed at the Sheraton Keauhou Bay - which is perched on lava sea cliffs overlooking the ocean, but with no beach in the vicinity. It is too bad that my friends did not inquire with the hotel staff or any of the slew of tourist guides to find out that there are many great beaches on the island and some very close by.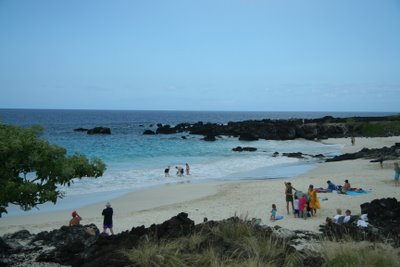 If you are not staying in a hotel in the resort-laden sunny Kohala Coast, you will have to drive to the beach. But once you get there, your trip would be well-worth it. Instead of long, established beaches such as Waikiki, the Big Island boasts dozens of smaller beaches surrounded by natural beauty (instead of the towering skyline of hotels and condos). You will find every variety of beach - white sand, black sand, grey sand, and even a green sand beach. Some are located just off the main roads with paved parking lots, showers, and bathrooms - such as Kahaluu Beach (Kona) and Hapuna Beach State Park (Kohala). Others, like Makalawena Beach (Kohala) are more austere and require you to hike to reach them. There many secluded beaches that you may be the only one there or just one of a small handful of people - such as Kekaha Kai State Park (Kohala).
If you like undisturbed natural beauty, you will love the beaches of the Big Island. Even popular beaches like Kua Bay (Kohala) and Punaluu Black Sand Beach (Ka'u) are set against their natural surroundings - be it dried lava beds or clusters of shady palm trees. This is the Hawaii we day-dream about. The fact is you could visit a different beach each day of your vacation on the Big Island.
Check out our Big Island Beach Guide for reviews, photos, and maps of all the beaches on the Big Island. We detail how to get to the beaches and which ones are best for sun-bathing, swimming, and snorkeling.
Related Posts: