La'aloa Beach Park – also known as Magic Sands or White Sands beach. This is another beautiful Big Island white sand beach, small and quaint and easily missed as you drive down Alii Drive. The beach is called Magic Sands because when rough surf hits, all of the sand is emptied off thebeach and Magic Sands Beach, Kona temporarily moved out to sea. No need to worry, it all comes back eventually. If the surf is up, you can see avid body-boarders and surfers here.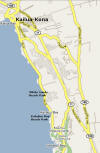 You can get to La'aloa from Alii Drive,and, because of its proximity to nearby Kailua-Kona Hotels, it is often well-populated. There is always a lifeguard on duty here; facilities include: showers, bathrooms and a volleyball net.
This beach is located just North of Kahalu'u Bay Beach Park, right on Ali'i Drive. View map of White Sands Beach Park.
There is a really nice shore-break at Magic Sands. The waves can get moderately high and even curl on their way to breaking on the sandy shore. Often you will see a crowd of people relaxing in their beach chairs watching the breaking waves and the youngsters on their body boards. We have enjoyed body boarding for hours at this beach - just keep an eye out for the big Kahuna roller wave that will take you for a very hard ride! Parking is tight and many simply park alongside Alii Drive (even though there are no parking signs throughout).
Check out our Kona Snorkeling Section for more information on snorkeling.
Our comprehensive Hotel Search Engine finds the best hotels at the lowest prices. Check out our Kona Hotels Finder - focused search of Kona Hotels, sorted by price.
Check out our extensive listing of over 100 Big Island vacation rentals, most are near Kailua-Kona - and many are within walking distance of Magic Sands Beach Park. From economic beachfront one bedrooms, to large condos for multiple families.
Hotels Big Island | Car Rentals Big Island | Vacation Rentals Big Island
Photos courtesy of Blake Handley
Related Posts: