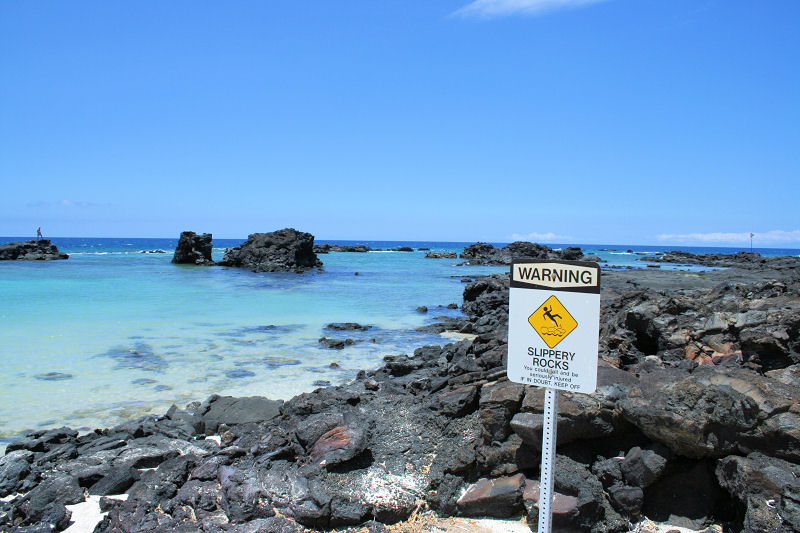 Kikaua Point Beach is on the of prettiest, family-friendly beaches on the Big Island. This pristine white sandy beach is surrounded by lava rocks and large groves of shady trees. Just 100 yards north of the point is Kikaua Point - white sand beach Kukio Beach, another white sand crescent-shaped beach - pick whichever one you like best!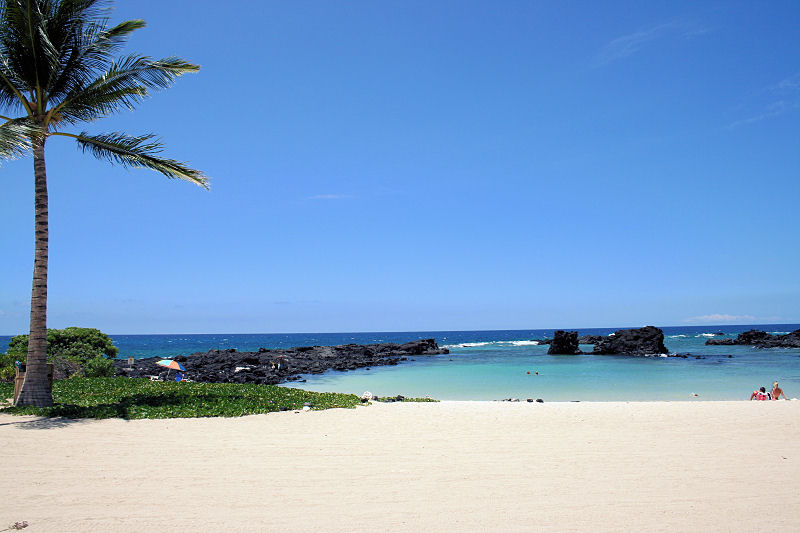 The closest beach to the parking area (just south of the point) is in a small well-protected inlet; the very calm waters and soft sandy bottom are perfect for families and youngsters. There are plenty of shady spots underneath the trees and even a small lush grassy lawn to sit and relax.
Explore the Kohala Coast! The Big Island has many great adventure tour providers that can show you the best
kayaking
and
snorkeling
spots near Kua Bay and throughout Kona.
Directions: Kikaua Point Beach is located approximately 10 miles north of Kailua-Kona, adjacent the Kukio Golf Resort. Coming from Kailua, turn left at Kukio Nui Road (near mile marker 87 on Route19), enter via the gate house - just tell Shady trees surround the beachthe guards "public beach access" and they will let you in. Come early, there are only 27 parking spots in the paved parking lot, and the guard house will not let you in if the parking lot is full. At the parking lot

there is a paved trail that leads you on a 5-minute walk to the beach. There are showers, bathrooms, and water fountains here. This beach is baby stroller accessible.
Nearby Beaches: Makalawena Beach, Kekaha Kai State Park, Kua Bay Beach, Kukio Beach, Kahuwai Bay Beach.
Check out our Kona Snorkeling Section for more information on snorkeling in Kona. Want to take your digital camera underwater? Check out our water-proof underwater cases.
Take a Virtual Tour of Kikaua Point Beach
Take a Virtual Tour of a Hawaiian Coral Reef
Snorkeling Tours of the Big Island

We offer a variety of guided snorkel tours for all ages and abilities. Designed for beginners and adventurers alike, you'll paddle along the scenic Kohala Coast and enjoy excellent snorkeling in warm, clear Hawaiian waters. Discover the Big Islands most remote snorkeling spots along the pristine Kohala Coast, Pawai Bay, Kealakekua Bay, and more. Check out our large sail and snorkel tours and our exciting zodiac tours for smaller groups.
Related Posts: