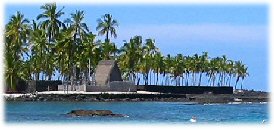 Tropical beaches… lush rain forests… dramatic coastal cliffs — with these and other attractions, Hawaii is more than just America's 50th state or a group of islands in the South Pacific. It's a special destination that attracts millions of visitors each year.  Our partners offer the best Hawaii Rental Car discounts available - whether you are arriving at the Kona Keahole Airport or HIlo Gen Lyman Field, save a lot of money by booking your rental car here.  We also partner with major airlines, so there are always plenty of flights to choose from, and our special Web-only deals will save you money, too.
Kailua-Kona Hotels | Waikoloa Hotels | Hilo Hotels | Kona Car Rentals

Our partners can save you money on your trip to Hawaii when you buy a Hawaiian vacation package. By combining our Web-only specials on airline tickets, hotel reservations and car rentals — along with extras that include airport/hotel transfers and activity vouchers — you'll experience the best of the islands at a price that won't break the bank. There are lots of packages to choose from, whether you're bringing along the family or taking a romantic trip for two.
The Big Island of Hawaii is the largest island in the Hawaiian chain - in fact it is larger than all of the other islands put together - the attractions are spread out and you will need a rental car to enjoy your Big Island vacation.  Do not fret, our website offers the best deals on rental cars.
Travel Planning Articles
Planning your Trip - When to come, how long to stay, itineraries, good guide books
Big Island Transportation - How to travel to the attractions, how to get there, plan your driving
Vacations for Families - Best family beaches, activities for youngsters, infants, teens
Packing for your Trip - The Big Island scenery is as diverse as its weather - pack smart
Related Posts: