Waikiki Hotels | Kailua Hotels | Honolulu Hotels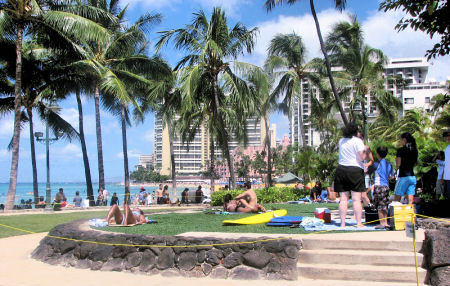 Waikiki visitors' favorite activities are to surf, sunbathe, stroll along the seafront Kalakaua Avenue and shop.  The most striking thing about the parallel Waikiki Beach is how narrow it is, a thin but nonetheless attractive strip of shipped-in sand. Compared to other Hawaiian beaches, it's overcrowded and small, but the fact that it's lined by a pedestrian walkway, with several pleasant gardens en route, make this, relatively speaking, a refuge from the resort frenzy nearby.
| | |
| --- | --- |
| Hotels near Landmarks | |
Until the Europeans came, HONOLULU was insignificant; soon so many foreign ships were frequenting its waters that it had become Kamehameha's capital, and it remains the economic center of the island. The city covers a long (if narrow) strip of southern Oahu, but downtown is a manageable size, and a lot quieter than its glamorous image might suggest. The tourist hotels, and most of Honolulu's hustle, are concentrated among the skyscrapers of very distinct WAIKIKI , a couple of miles east.

The setting is beautiful, right on the Pacific and backed by dramatic cliffs and the extinct volcanoes of Punchbowl (a military cemetery) and Diamond Head ; but then beauty is not so rare a commodity on Hawaii, and you can see this sort of scenery in plenty of other places without a city in the middle of it. What attracts most visitors to stay in Honolulu, and especially Waikiki, is the sheer hedonism of shopping, eating and generally hanging out in the sun. It's also the center of an exemplary public transportation system, facilitating exploration of the whole island.
---
Oahu Activities
 Dinner / Sunset Cruises on the island of Oahu
 Dolphin Encounters on the island of Oahu
 Hiking / Eco Tours on the island of Oahu
 Kayaking on the island of Oahu
 Sightseeing Tours on the island of Oahu
 Snorkeling Tours on the island of Oahu
 Surfing / Wind Surfing Lessons on the island of Oahu
Related Posts: