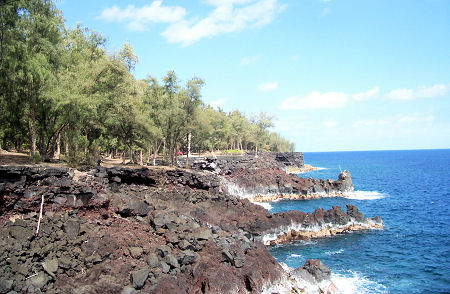 This 13-acre park shaded by ironwoods is good for picnicking. You can't swim here due to the rocky shore and waves, but it is a pretty place.  Low-cliffed, wild volcanic coastline with picnicking and tent camping in a ironwood grove. Good shore fishing. Old Hawaiian coastal trail traverses the park. No drinking water.  Facilities include rest rooms. The recreation area is off Highway 137, 2 miles south of junction with Highway 132. Puna District, PHONE: 808/961-8311.
Directions: South of Hilo, take Highway 132 (Kapoho Road) towards the coast, then turn right on Highway 137 south (Kalapana-Kapono Beach Road).  Park is located just south of Isaac Hale Park.  View map.
Nearby Beaches: Isaac Hale Beach Park.
Related Posts: