Big Island Beaches | Kona Snorkeling | Kona Diving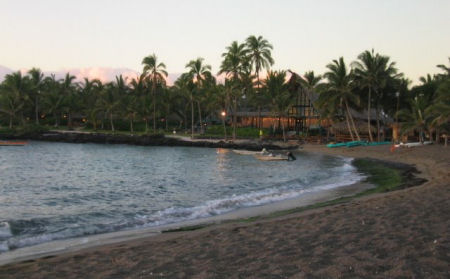 This   sandy beach is located adjacent the Kona Village Resort and is   surrounded by groves of palm trees.  There are scattered lava rocks   forming a natural barrier in the shallow water.  The sunsets are   pretty at this beach.

One of the biggest attractions here are the Hawaiian Green Sea Turtles that frequent this cove.  You will see them in the shallow waters and even laying on the beach.

Directions: Take Highway 19 north from Kailua-Kona. Turn left just past Mile Marker #87. At the Four Seasons Resort guard house ask for a "public access pass" to the beach.

Turn right at the intersection and follow the road to the parking area and Public Access trails to the beach.  View map of Kahuwai Bay.   Check out our Kona Snorkeling Section for more information on snorkeling in Kona.  Want to take your digital camera underwater? Check out our water-proof underwater cases.
Hotels Big Island  |  Car Rentals Big Island  |  Vacation Rentals Big Island

Take a Virtual Tour of a Hawaiian Coral Reef
Related Posts: