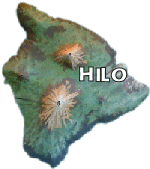 Coconut Island is a small island park in Hilo Bay, located right next to the hotels along Banyan Drive.  A footbridge just opposite the Hilo Hawaiian Hotel connects the island to the main island.  Coconut Island is the perfect place for a picnic and a relaxing swim.  This grassy little isle is a fantastic spot for the kids.  They will enjoy playing in the shallow pools with sandy bottoms.  Try jumping off of the stone tower (located on the east side of the island) into the ocean water.  This tower is the remnants of the old footbridge which was wiped out by a tidal wave.

We enjoyed the view from the footbridge - you can often see sea turtles swimming below as you walk across.  There are plenty of photo opportunities on the Island; the view of Hilo Bay and the mountains in the background is splendid.  At times, festivals and concerts are held at Coconut Island.  This is a great place to sit down on the grass and enjoy the live entertainment and food.  There is also a small sandy beach at the northern edge of the island where kids can play in the sand.  From Coconut Island, you have a great view of Hilo Bay and the outrigger canoers, paddle boarders, and power boaters as the cruise the Bay.

From Coconut Island, you have a great view of Hilo Bayfront, Downtown Hilo, and the rest of Hilo Bay.  To the East, you can see the massive breakwater protecting Hilo Bay.
Attractions: beach, scenic drive
Activities: picnicking, swimming, fishing
Extras: parking lot, picnic pavilion, showers, dive platform
Travel Itineraries
Only have one day to see Hilo?  Check out our Hilo & Volcano Itinerary for a one-day trip schedule.  If you are interested in exploring the natural beauty north of Hilo, check out our one-day Hamakua Coast Itinerary for a suggested schedule.
Rte 11 South (Kanoelehua) turns into Banyan Drive.  Follow the road past the Naniloa, Uncle Billy's, and Hilo Hawaiian hotels.  Turn right after the Hilo Hawaiian hotel.  Queen Liliuokalani Japanese Gardens will be on your left, and the Coconut Island parking lot will be on your right.
View across the new footbridge to Coconut Island, Hilo
Related Posts: