Hilo, Hawaii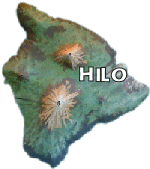 Hilo flows down the lower slopes of Mauna Kea. The town straddles a tranquil river with waterfalls and lush vegetation. Historic Downtown Hilo is alive and bustling. More laid back from the hustle of more touristy Hawaii, one can find great bargains in this quaint town. Its diverse shopping opportunities, small scale, and friendliness makes Hilo an enchanting town to visit and explore. Hilo's scenic bayfront is lined with renovated storefronts dating back to the early 1900s. Downtown attractions include: Hawaii Coral Reef Discovery Center (808) 933-8195, Lyman Museum and Mission Home (808) 935-5021, and the Pacific Tsunami Museum (808) 935-0926.
With lots of rain, you will find Hilo exceptionally green and fertile. The stoic banyan trees dominate much of Hilo's waterfront. On Banyan Drive you will find the tranquil Queen Liliuokalani Gardens and across a footbridge in the bay is Coconut Island, both wonderful places to visit and enjoy their beauty. For suggestions on where to eat, check out our Hilo Restaurants Guide. Check out our new Big Island Travel Planner with articles and resources to help you plan your next Hawaiian vacation. Only have one day to see Hilo? Check out our Hilo & Volcano Itinerary for a one-day trip schedule.
Scenic Hamakua Coast


Tucked away at the edge of Hilo is Rainbow Falls State Park. The best time to view the 80-foot Rainbow Falls is at sunrise when you will see an enormous rainbow stretching across the mist of the lagoon. With so much rain in the Hilo area, you will see vibrant vegetation and lush rain forest around the Wailuku River. Check out our one-day Hamakua Coast Itinerary for a suggested schedule.
Heading North from Hilo takes you by the scenic Hamakua Coast. Continuing North will take you to Akaka Falls and then the Waipio Valley. Driving further up the volcano takes you to Waimea. Hwy 19 follows the tracks of a former sugar can train; it hugs the coast snaking through jungle gulches and over bridges with a spectacular rugged ocean view.

North of Hilo, on Highway 19 on the Hamakua coast, watch for the " 4 mile scenic route " sign on the ocean side. Take the time to take this splendid detour. The Pepe'ekeo Scenic Drive takes you through tropical jungle, winding along the coastal cliffs and waterfalls along its way down the coast. In between towering trees you will see steep ravines dropping into the crashing waves of the ocean below. You may wish to stop at the Botanical Gardens during the drive to see exotic trees and unusual tropical plants. This Hamakua coast offers gorgeous views on the ocean side as the road carves through the rain-soaked gullies and around cascading waterfalls on tiny one-lane bridges and winds in and out of rain forest ravines.

Hawaii Tropical Botanical Gardens is located seven miles north of Hilo on Route 19. Enjoy the self-guided tour of the gardens, through tropical rain forest with waterfalls, meandering streams, and rugged ocean coast. There is also a vast selection of flowers, fruits, plants, and trees. The Gardens are located just off of the 4 Mile Scenic Route. The Gardens are serene, relaxing, and a photographer's paradise!

One must-see place is the Hilo Farmer's Market, held on every Saturday and Wednesday. Here is where you can save big on souvenirs, clothing, fresh flowers, vegetables, and an assortment of other bargains. Looking for souvenirs? This is where you can save on a variety of clothing, handicrafts, presents for friends and family, and more. This is one of the best farmer's markets on the island.
Ocean and Volcano
Two popular beaches in the area are Leleiwi Beach Park and Richardson's Ocean Center - both offer picnic, swimming, snorkeling, and SCUBA diving opportunities. Richardson's is a beautiful black sand beach in a protected cove - perfect for families.
Driving South from Hilo, it is a very short trip to the fantastic

Volcanoes National Park where you can see the active lava flow and the Kilauea volcano. Also close by, are ample snorkeling and diving opportunities including the unique Kapoho Tidal Pools just South of Hilo.

About 45 minutes South of Hilo is the magnificent Hawaii Volcanoes National Park. Make sure you spend several days exploring this wonderful National Park, including the active lava flow of Kilauea.

Continuing South will take you to South Point and the green sand beaches. Only have one day to see Hilo and nearby attractions? Check out our Hilo & Volcano Itinerary for a suggested one-day trip schedule.

Hilo Hotels starting at $72
Our comprehensive Hotel Search Engine finds the best hotels at the lowest prices. Check out our Hilo Hotels Finder - focused search of Hilo Hotels, sorted by price.

Attractions: restaurants, stores, history
Activities: shopping, SCUBA diving, snorkeling, sightseeing

| | | | |
| --- | --- | --- | --- |
| Hilo Bayfront | Outrigger Canoers at Hilo Bay | Hilo Bay View | Coconut Island |
| Hamakua Scenic Drive | Queen Liliuokalani Park | Banyan Drive | Banyan Trees |


Japan Prepaid Phone Cards | Las Vegas Discount Travel | Europe Travel Guide
Vacation Package Discounts | Discount Travel Packages | Military Hotel Discounts