You are here: Big Island > Sightseeing > Hawaii Photos - Sunsets
Hawaii Sunset Photos

Bodyboarder at Sunset


Alii Drive, Kailua


Anaehoomalu Bay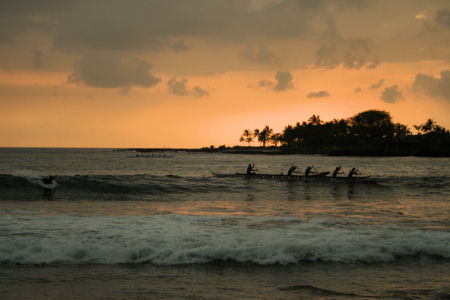 Outrigger canoe club at sunset, body-boarder catching a wave
Hawaii Photos Collection
Hawaiian Sea Turtle - photos of the Hawaiian Green Sea Turtle
Volcano Photos - photos of the Kilauea volcano active lava flow
Sunset Photos - photos of beautiful Kona and Kohala sunsets
Diving Photos - underwater photos of diving on the Big Island
Hawaii Outdoors Scenic - photos of outdoors and hiking scenes

A special place to watch the beautiful sunsets is right behind the Kona Inn Restaurant, located in the Kona Inn Shopping Village on Ali'i Drive in downtown Kailua-Kona. There is a wide grassy area adjacent the sea wall, intermingled with palm trees. From here, you have a splendid view of the Kailua Pier, the bobbing boats and rolling waves.

Another wonderful place to view the Kona sunsets is at Anaehoomalu Bay. The edge of this beach is lined with tall palm trees that form an impressive backdrop to the sunset. Also, there is a large pond just to the east of the beach across which you can watch the sunset glimmering off of the still water. The view is surreal.
Virtual Tour: Take a Virtual Tour of Anaehoomalu Bay at sunset.
Photo Tip: Remember, to take the best sunset photos, disable the flash on your camera - that way you will best capture the beautiful natural lighting of the scene. Using a tripod will help significantly as well, allowing you to minimize camera movement in a low-lighting situation. Check out the Sunset Cruises on the island of Hawai'i.
| | | |
| --- | --- | --- |
| | | |
| Crowd watching sunset | View just after sunset | Cruise ship at sunset |
| Riding the waves at sunset | Sunset at the Kona Inn | Sunset at the Kona Inn |
| Kailua Pier in Background | Sunset at the Kona Inn | Viewed from Ali'i Drive |
| Pacific Ocean Sunset | Sunset West of Kona | Volcano Park Sunset |
| Kailua Sunset | Boat and Outriggers | King Kam Hotel |
| Sailboat Kailua | Kailua-Kona Sunset | Sailboat Kailua Bay |
| Orange Sun Kailua | Bright Sky Sunset | Colorful Sunset |
| Outrigger Canoes Kona | Sailship Kailua | Outrigger Canoes Kona |